Jeans & Trousers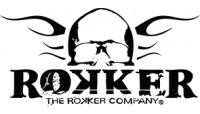 ROKKER MOTORCYCLE JEANS, CHINOS & TROUSERS:
Rokker's ultra cool and ultra protective motorcycle jeans and trousers are some of the best on the market.
The single layer ROKKERTECH LINE combines the latest weaving technology with style and reliability. Regardless of whether you're on an extended motorcycle tour or your daily commute, the ROKKERTECH LINE ensures you'll be well-equipped and reliably protected in any situation.
The ROKKER REVOLUTION LINE was developed for motorcyclists who ride in all weather. Thanks to the unique combination of 100% schoeller®-dynatec with a waterproof c_change® membrane, fully sealed seams and waterproof YKK zippers, nothing will stop your ride.
The ROKKER BLACK JACK LINE offers an optimal combination of elegant style and functionality. The outer shell in each product in the BLACK JACK LINE consists of 100% schoeller®-dynatec combined with unique coatings such as coldblack ® that reduces heat buildup and NanoSphere®, which keeps dirt away.
Refine Search
Showing 1 to 21 of 21 (1 Pages)