Racer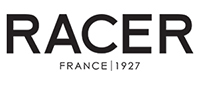 RACER:
A clever mix of know-how and the latest glove technology, at an excellent price.
Founded in 1927, Racer are one of the few brands that focus solely on the production of motorcycle gloves. They have a well-deserved reputation for producing gloves designed to synchronise rider with machine.
Since 1982, Racer have been fine tuning their heated glove designs with an incredible eye for detail. They only use the finest materials and latest technologies available, with an outstanding level of craftsmanship. Whatever motorcycle you ride, Racer have your bike gloves covered.